Karakoram Prime Nomad + Split Interface Splitboard Bindings - Women's 2022
Whether looking to wander or have a set peak to climb, the 2022 Karakoram Women's Nomad Splitboard binding has you covered. Our workhorse binding based on the principles of our original SL, the Nomad-W has our X-Type Chassis, Reactive Highback and new AirPod strap. Light and bomb proof the Nomad-W will take you anywhere. 
Included: Bindings, Interface Kit (Ride Mode 2.0, Tour Mode, DualSpeed Riser w/ Heel-Lock)
The most versatile binding in Karakoram's splitboard lineup, the Karakoram PRIME NOMAD W + Split Interface Splitboard Bindings deliver in any touring environment. With a chassis feel of "6" and a slightly stiffer highback flex, the Prime Nomad W is set for all day or all week missions into God-knows-where (hopefully you've mapped it out). Smooth, light, and quick and easy to transition with, this binding is money as soon as your step away from the resort.
Tour Mode
DualSpeed Risers with Heel-Lock:  These risers open with a pole basket, have two heights, and have a retractable heel lock that you can flip up when you need it.
Smooth Touring Pivot:  Independent sleeves rotate freely on a fixed thru-axle, similar to a bike axle, making these stiff and smooth. They're wide for touring rigidity, they shed snow well, and the quick-releasing bracket allows for simple transitions.
Dual Ride-Stride: Highback goes from ride mode to walk mode with a 1/4 turn of the forward lean block. Ride Mode: 0° to 22°, in 2° increments, Surf Mode: 0° or 11°, Walk Mode: -8° allows for longer stride.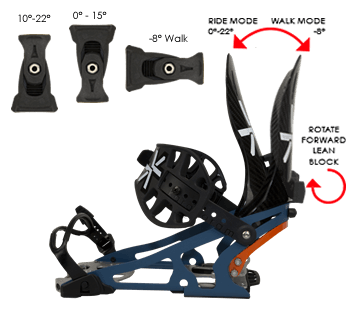 Ride Mode
Prime System: Quickly attach your Prime bindings to your solid board with Quiver-Connectors or splitboard with the Ride Mode 2.0.
Ride Mode 2.0: Easy snow clearing, drop-on change-overs, and no slop. Ride Mode 2.0 ensures the most solid connection between all your components.
Interlocking Seam Tabs:  No separation: tabs interlock across the seam of your board, interlocking and pre-loading the two halves for a solid ride.
Power Link: Getting your binding in and out of ride mode has never been easier than with Power Link, an ergonomic activation lever that allows you to remove your bindings or engage with one simple, fluid motion. Pull up to lock, push down to unlock.
Active Joining:  No slop with instant response. Pre-loaded contact points create an ultra solid connection between your bindings and splitboard.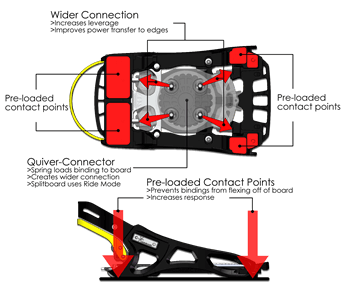 Baseplate
Open Chassis Design: Allows your board to flex naturally on its own, unaffected by bindings.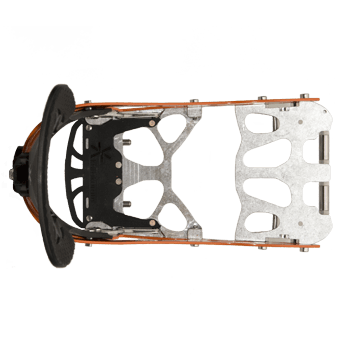 Asymmetrical Heelcup: The high sidewalls give support while sidehilling, and the low sidewalls allow for freedom of movement while riding.
Nomad X-Type Heelcup:  2X stronger than standard aluminum, these CNC'd baseplates transfer power with an extremely high strength-to-weight ratio.
Aluminum Hardware:  Custom 7075-T6 screws and hollow pins mean every gram counts.
Flex (1 Soft - 10 Stiff) – 6
Straps
Air-Pod Straps:  Made from P-Lite TPE, which is 30% lighter than standard TPU. These lightweight straps feature Independent Pressure Pods that articulate to eliminate pressure points.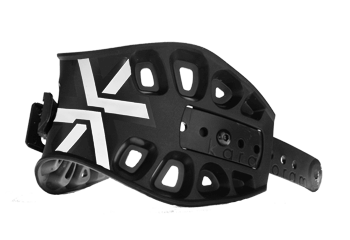 Airform Straps:  Independent Pressure Pods articulate to boot eliminating pressure points and pinch points.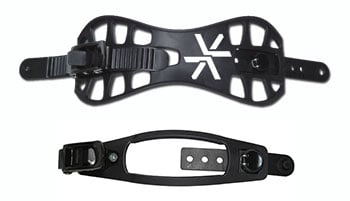 Buckles
Super Pivot Ratchets: Low profile Nylon composite ratchets are robust, smooth, and up to 30% lighter.
Highback
Reactive Highbacks: Delivering featherweight support with precision feedback, these have a great stiffness to weight ratio.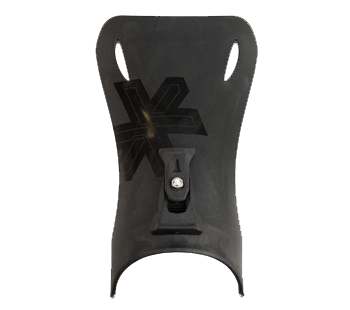 Flex (1 Soft - 10 Stiff) – 8
Compatibility
Compatible with Standard Splitboard Inserts
Compatible with Karakoram PRIME Quiver-Connectors
Additional Features
Includes:  Bindings, Prime Splitboard Interface 2.0 with Tour Brackets and DualSpeed Risers w/ Heel Lock
---
We Also Recommend
---